By Taylor Foley, BACH 2017 Summer Intern from University of Massachusetts, Amherst
Did you know that maternal depression affects approximately 12 million women per year in the United States alone? The National Institute of Mental Health and the US Department of Health and Human services found that out of those 12 million women, the vast majority are people of color and low-income, proving that maternal depression is a major public health and health equity issue and preventative action is needed. Additionally, children of depressed mothers are at a higher risk of developing mood disorders, as well as developing impaired cognitive, social and academic functioning. Over the past five years, a research team from Boston Medical Center (BMC) has partnered with Action for Boston Community Development's Head Start program to create and implement a prevention strategy that has since been proven to reduce depressive symptoms by 40% percent.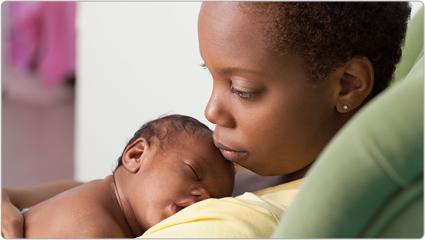 This study consisted of BMC utilizing trained health workers to work with mothers and deliver a brief intervention called, Problem Solving Education (PSE). PSE's includes problem solving, monitoring depressive symptoms and referral to further treatment. Of the approximately 2,200 mothers enrolled in the Boston area's Head Start program, 230 qualified for the study. They also found that the majority of these mothers were Latino and living at or below poverty level.
BMC health workers met with mothers at home visits or at a Head Start site every 1-2 weeks for six sessions in order to discuss issues they were facing. The mothers discussed a wide range of challenges that they were facing in their everyday lives and the health workers provided methods for the mothers to deal with these challenges. Mothers who went through PSE sessions experienced a 40-60% reduction in the emergence of clinically significant depressive symptom episodes. By using PSE strategies, mothers felt an increase in control in their lives and ultimately saw an improvement in their mood.
Dr. Michael Silverstein, a pediatrician at Boston Medical Center and a member of the research team, stated that many mothers are unaware that they may be depressed and intervention is needed. Silverstein, as well as other medical professionals, understands that studies like this are incredibly important in shaping public health policy and for improving mental health screenings to not only benefit the lives of mothers, but their children as well. Boston Medical Center and ABCD's Head Start have laid the groundwork for further methods to prevent and treat maternal depression and raise questions on how public health policy can help.
For more information click here.